Gibson Custom True Historic 2015
Friday 23 January, 2015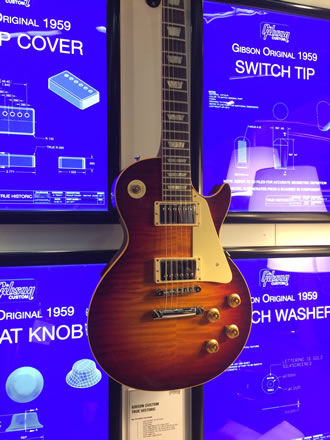 True Historic Series was one of the main highlights at the Gibson Custom Booth at the Winter Namm Show 2015.
The big news is: historic collection is going to get "retired"! In other words Gibson Custom will release a new and more accurate reissue Les Paul, produced in limited quantities, named True Historic.
All the little things from the top hats, to pick covers and rings, washers, backplates, pickguards, toggle caps, and pegged veneers have been carefully recreated 3D-mapping and analyzing the materials of original 50's parts.
The body of the True Historic also features a thinner lacquer, which is wet sanded by hand, softer vintage edge profiles throughout, and a double carved and hand sanded top that's glued now with hide glue.
The dish of the top has been re-done using a new sanding process. The neck roll has been changed, while hand filled rolled fingerboard binding and a new scraping process were also utilized to get these as accurate to the original Les Paul.
You can pre-order the True Historic today by contacting our sales staff at customers@ginoguitars.com or calling (+39) 0331 791 004.