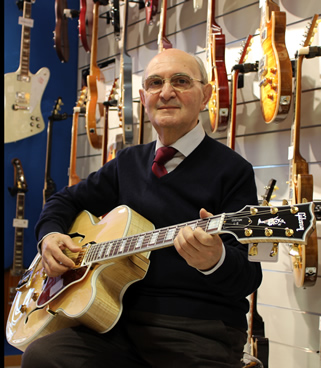 Gino strumenti musicali was born in 1967 from the passion of his founder Gino Della Porta for guitars and music: after more than 15 years spent working with the most influent artists of the 50's Gino decides to move his passion for music from the activity of professionist jazz guitarist to musical instrument retailer. Since its opening in 1967 Gino strumenti musicali has become more and more specialized on guitars and nowadays, known as Gino Guitars, is a reference point for guitarists and musicians.
Nowadays Gino Guitars is the leading italian guitar boutique. We carry all the most prestigious brand and our website GinoGuitars.com is specialized on high-end guitars. Each instrument listed on the website is really in stock and individually photographed in our studio.
Buying on GinoGuitars.com means professionalism and safety.
Professionalsm has characterized our activity in all these years: a depth knowledge of the procuts, direct contacts with producers and our care to market's evolution bring in our shop a wide selection of products and all the brand new and limited edition products, not easily avialable at normal dealers.
Safety, instead, because we are official dealer for the brands we offer, and all our products are original and with a 2 years warranty. Besides our assistance before and after purchase make your choice the best choice.
Gino Guitars s.r.l.
Viale Certosa, 191
20151 Milano
Italy
VAT-ID IT09224050964